THE SOLOMON MEREDITH MONUMENT RESTORATION PROJECT.
AS THE ARTICLE BELOW STATES, THIS MONUMENT ORIGINALLY STOOD ON THE GROUNDS OF THE MEREDITH HOMESTEAD JUST OUTSIDE OF CAMBRIDGE CITY INDIANA. SOMETIME JUST BEFORE 1910, THE REMAINS OF SOLOMON, AND OTHER FAMILY MEMEBERS WHO WERE BURIED IN THE FAMILY PLOT, WERE REMOVED AND TAKEN TO THE RIVERSIDE CEMETERY. HIS MOMUMENT WAS ALSO MOVED AND I BELIEVE HAS BEEN UNTOUCHED FOR OVER 100 YEARS.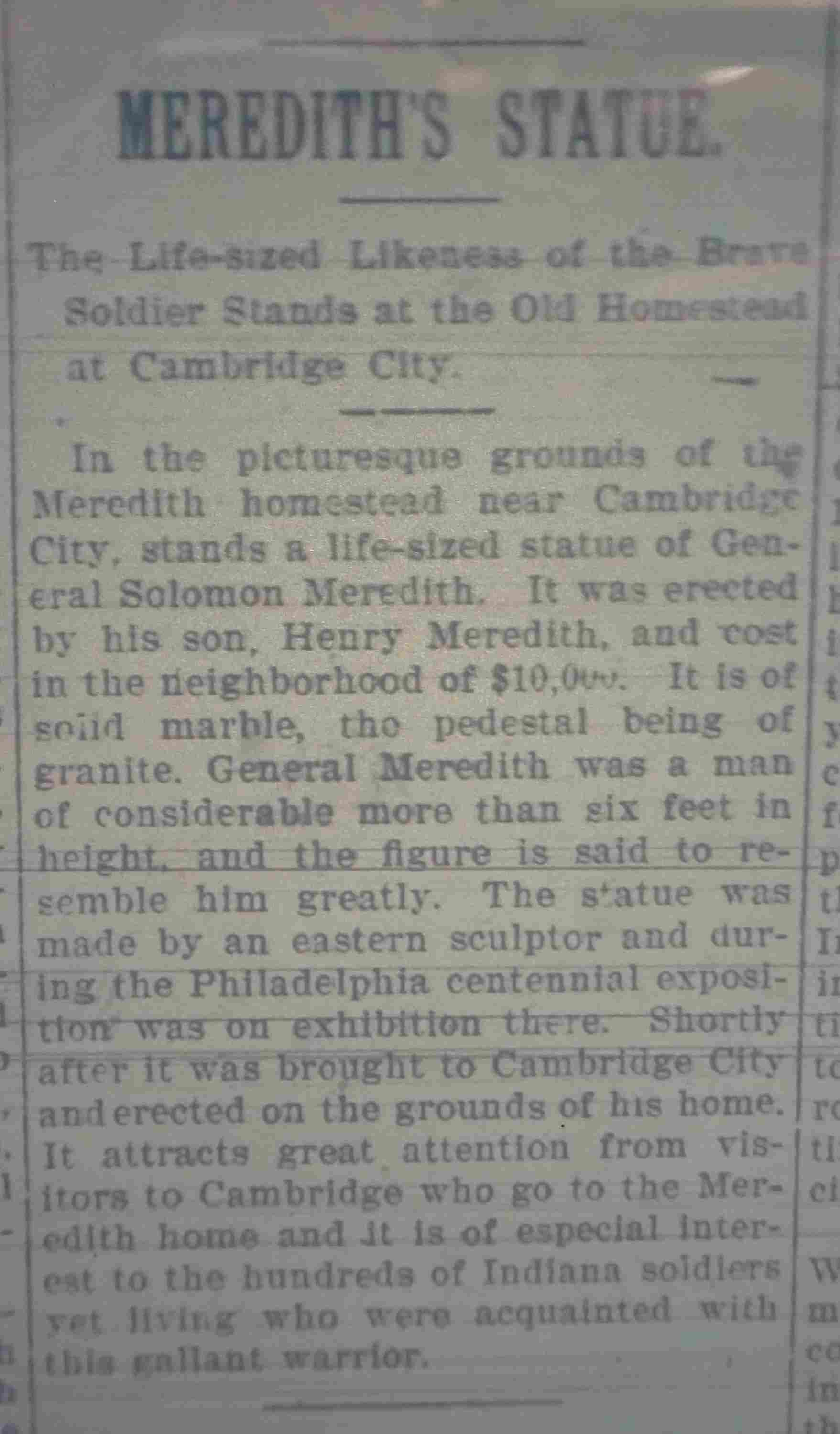 The Richmond Evening Item May 21, 1897
SOLOMON MEREDITH WAS THE FIRST COLONEL OF THE 19TH INDIANA INFANTRY AND LATER COMMANDED THE IRON BRIGADE AS A BRIGADIER GENERAL.
THE PHOTOS BELOW SHOW THE AMOUNT OF DETAILED CLEANING THAT WILL BE NEEDED TO RESTORE THE MONUMENT.

MARK DAVIS OF "STONE SAVER CEMETERY RESTORATION" LOOKED THE PROJECT OVER AND GAVE THE ESTIMATE FOR THIS WORK.

MARK HAS OVER 10 YEARS EXPERIANCE IN CLEANING, RESTORING AND REPAIRING HEADSTONES AND MONUMENTS.
THANK YOU IN ADVANCE TO ALL MY 19TH INDIANA INFANTRY, IRON BRIGADE AND CIVIL WAR FRIENDS AROUND THE COUNTY. IT IS GREATLY APPRECIATED.