Mustered into service as a Private on July 29, 1861
Born 1843
Died April 1916
Buried Crown Hill Cemetery, Marion County Indiana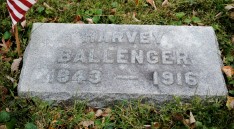 Private Ballenger mustered into the service using the alias Israel Young. He would be discharged early in the war because of disability.

Harvey filed for a pension in 1908.